Birch
Your class teacher is Mr Jones, supported by Miss McDermott.
Here you will find useful information about our class, as well as photographs of what we have been doing in school.
PE Days
PE days are Tuesdays and Thursdays.
We will be aiming to run the mile on Thursdays to avoid confusion as to when the children need their PE kits.
Planners
Signed by parents over the weekend and by the class teacher on a Monday.
Please feel free to use your child's planner as a means of communication if you would like to pass on any messages.
You will also find my school email in their planner if you would prefer to use that.
Homework
Homework will continue to be given out on a Friday, to be completed by the following Wednesday. If your child is unable to complete this at home they will have the chance to do so in school on Monday, Tuesday and Wednesday lunchtimes at homework club.
This term's creative curriculum is entitled 'my world'. Further details will be sent out over the coming weeks.
Children in Year 5 are expected to spend 1 hour on their homework each week. This will consist of spelling practise and a maths homework relating to the work covered in class that week. It is expected that your child reads for at least 10 minutes each night as part of their homework from school. It would be really appreciated if you could encourage your child to do this.
Reading
Children are welcome to take books from the KS2 library as well as our class library and read them at home.
Bug Club is now up and running and login details can be found in children's planners. We will be using Bug Club in guided reading sessions, and children will occasionally be set grammar and spelling activities to complete as homework.
Spellings
Spellings will be given out on a Wednesday and tested the following Wednesday, after your child has had chance to practise over the weekend. Each week, spellings will be updated on the learning platform for you to access at home and practise online!

For the past two years, as part of a whole school effort, each class took part in a weekly 1 mile run. The benefits resulting from this were fantastic! Not only was it evident that children were getting fitter and therefore healthier, but it was also clear that they were becoming more confident, with some children applying their new found determination to their work ethic in the classroom.
We are keen to continue running at least once a week and ask you to please ensure that your child has appropriate footwear in school so that they are able to take part.
Year 5's record time for the Mile Run this year currently stands at:
Autumn 1
As a school, we are working with Premier League Primary Stars. In Year 5, myself and Miss Wetherill will be working closely with coaches to plan and deliver fun and engaging PE activities to help pupils develop their skills in everything from balance and coordination to athletics and throwing skills. In addition to this, challenging topics such as resilience, diversity and self-esteem, will be brought to life by personal insights from children and top figures of the sporting world.
Today (21.09.17) we were lucky enough to be visited by Leeds United goalkeeper Bailey Peacock-Farrell, who kindly answered all of our questions about his inspirations, work ethic and hobbies outside of football.
During our music lessons, Year 5 have been learning about famous composers and the music that they make. They have had opportunities to both listen and create their own pieces of music. For the past couple of weeks we have been focusing on a composer called Cathy Berberian who composed a piece called Stripsody in 1966. Stripsody was created by exploiting a range of different vocal techniques using comic book sounds. The children in 5B all had a go at writing their own. Here are some of our favourites!
Well done Birch class, some excellent scores and fantastic performances!
Yesterday, as part of National Fitness Day, the school took part in an activity called #10TEN10. This got all children to do 10 minutes of fitness at 10, the children were all very enthusiastic and definitely enjoyed it. Well done to all involved!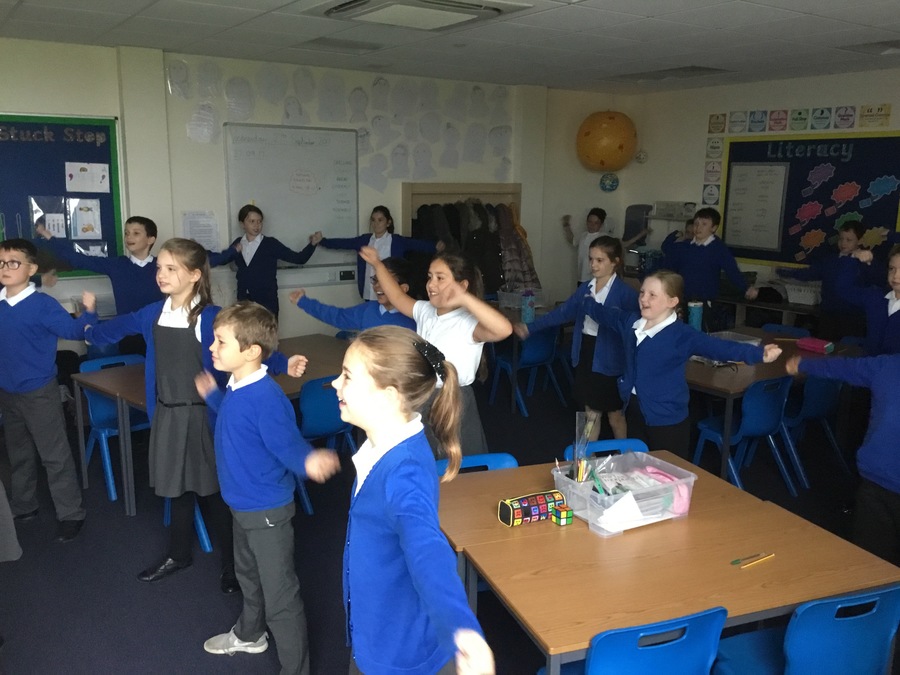 This week in Year 5 there has been lots going on and it has definitely got a little bit messy. As part of our Science topic we have been researching planets and what they look like. We have created a fact file about each of the planets and have made into a little booklet for the classroom. We have really enjoyed researching our Solar System!
In Art we have decided to link what we are doing to our Science topic, which meant it was time to get a little bit messy and start making our planets! Firstly we used papier-mâché to create the spherical planets and have then painted them.
Today in Year 5 (17.10.17) we had some very special guests come to visit us. As part of an initiative in school each year is buddied with another age group. Luckily for us we got the fantastic Green Butterflies as our buddies and we invited them over to watch a small performance and sit at our big tables. The children in Year 5 proved to be excellent role models and had conversations with the children about the things we had been learning in class. We really enjoyed having the Green Butterflies over and hope to see them again very soon!
Autumn 2
Today (7.11.17) we visited the Jorvik Viking Centre in York. The trip really brought to life the topic we are going to be looking at this half term and provided us with some amazing information we can use in our writing. Although it was a bit dark (and extremely smelly) we definitely enjoyed ourselves and cannot wait to carry on our learning back at school.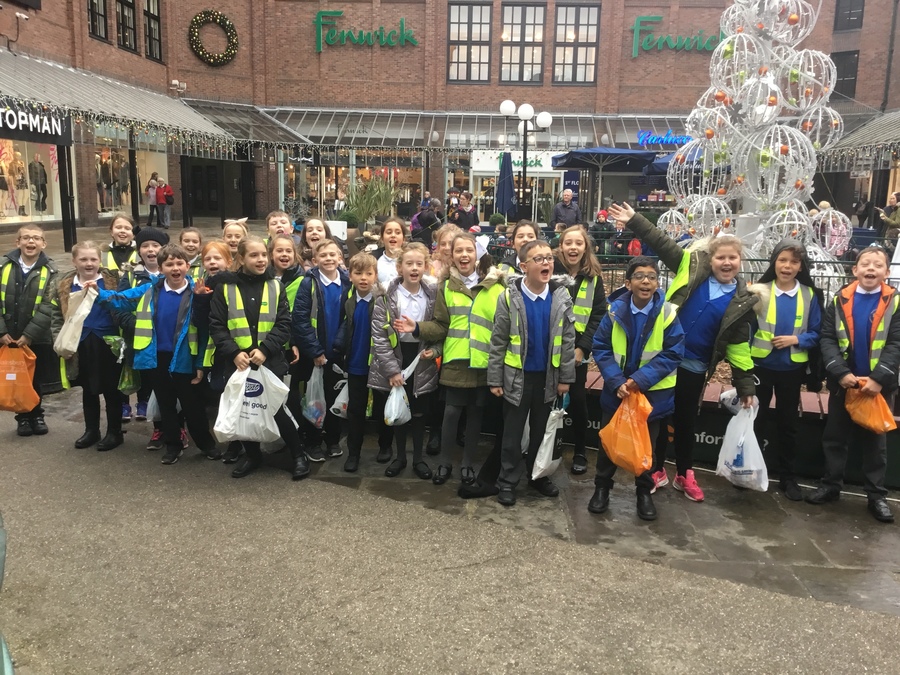 This week in Birch class we have been thinking about things we could improve on as a class. This is part of our schools initiative Investors in Pupils. We have decided that our target for this term is to be more organised that means having everything we need for the week ready and brought in on the correct days. If we reach our target there may just be a treat at the end of term!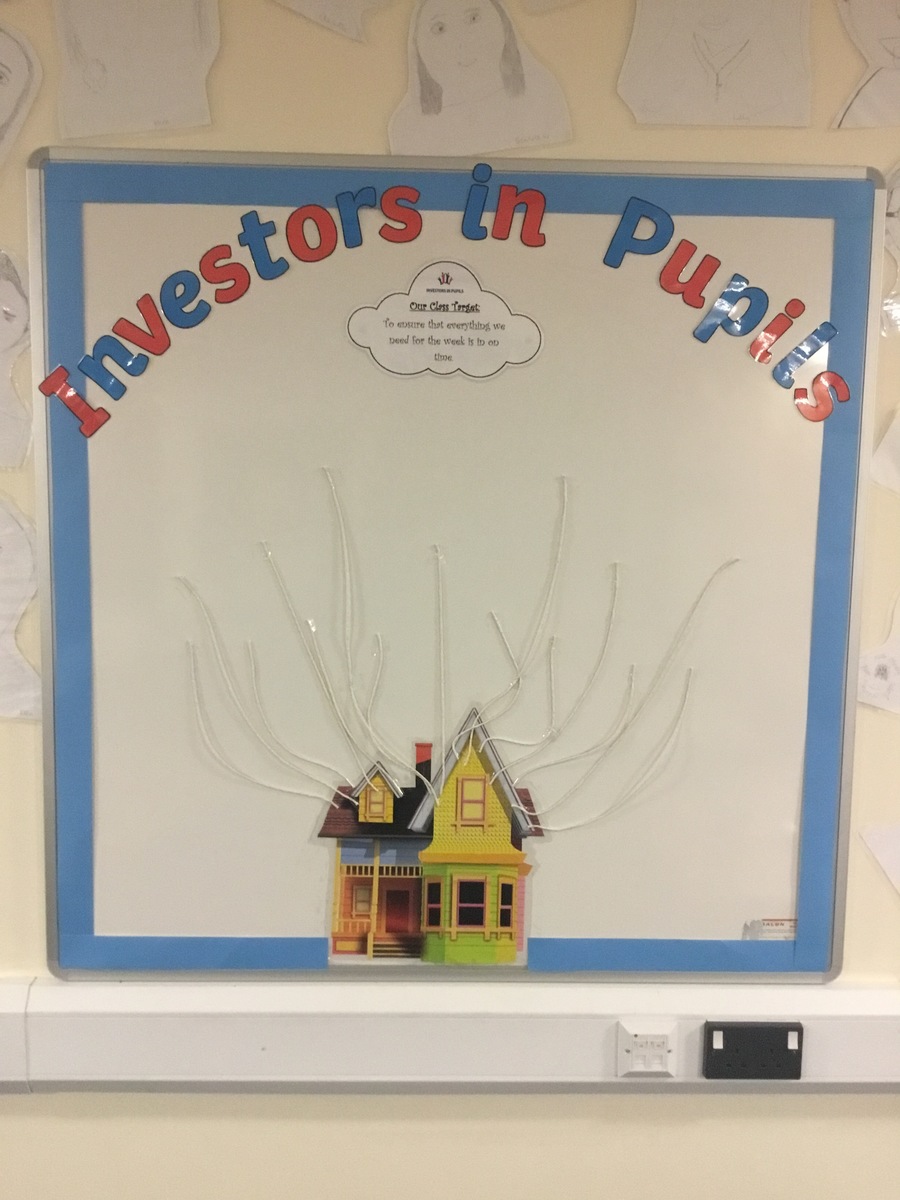 The Birch Blog
Joshua JONES (joshua.jones) on: The Birch Blog
Yesterday, we were visited by The Leeds Theatre in Education company. They performed The Looking for Callum Educational Theatre Programme, which has been designed to address some serious issues which affect children and young people. The play and the workshops have been structured to allow participants to engage with a range of issues on a level according to their own experiences and knowledge, and to explore those issues with their teachers/support workers according to their needs and concerns. Year 5 were engaged throughout and took part in a mature and sensible manner, well done! More information about this workshop can be found on the school's safeguarding page.
---