Poplar class
Your class teacher is Miss Wetherill, supported by Miss Mcdermot.
Here you will find useful information about our class, as well as photographs of what we have been doing in school.
Summer 1 Newsletter
PE Days
PE days are Mondays and Thursdays.
We will be aiming to run the mile on Thursdays to avoid confusion as to when the children need their PE kits.
Planners
Signed by parents over the weekend and by the class teacher on a Monday.
Please feel free to use your child's planner as a means of communication if you would like to pass on any messages.
You will also find my school email in their planner if you would prefer to use that.
Homework
Homework will continue to be given out on a Friday, to be completed by the following Wednesday. If your child is unable to complete this at home they will have the chance to do so in school on Monday, Tuesday and Wednesday lunchtimes at homework club.
This term's creative curriculum is about an inspirational point, and is due back Tuesday 27th June.
Children in Year 5 are expected to spend 1 hour on their homework each week. This will consist of spelling practise and a maths homework relating to the work covered in class that week. It is expected that your child reads for at least 10 minutes each night as part of their homework from school. It would be really appreciated if you could encourage your child to do this.
Reading
Children are welcome to take books from the KS2 library as well as our class library and read them at home.
Bug Club is now up and running and login details can be found in children's planners. We will be using Bug Club in guided reading sessions, and children will occasionally be set grammar and spelling activities to complete as homework.
Spellings
Spellings will be given out on a Wednesday and tested the following Wednesday, after your child has had chance to practise over the weekend. Each week, spellings will be updated on the learning platform for you to access at home and practise online!
Today (4/7/17) the whole school were invited to watch a theatre performance of Alice in Wonderland. It was very exciting walking into a dimly lit hall, with only flashing lights to lead the way to our seats. Music was playing whilst we awaited the performers arrival. Year 5 came back into class excited to share what they had watched and experienced. We decided to write our own reviews of the performance, complete with star ratings out of 10.
Reviews from Year 5:
Robin Gill-Carey
'It was absolutely wonderful' 7.5/10
When I walked into the hall with my class, I saw a dark room filled with purple shimmering lights and straight away I thought, WOW, they've really put a lot of effort into this! By then, I was already starting to get excited. Whilst the performance was going on there was laugher, confusion and happiness from the audience. The actors has a few slip ups at times, but they were great. I loved how there were only four actors but they managed to still fit eight characters into the performance, so well done to them!
Rheya Morton
'A humorous performance' 9/10
The Alice in Wonderland performance was full of joy and laughter. The actors knew their lines and moves but did slip up a little when using the props. Choreography was amazing! They chose fun-filled songs and colourful costumes. One of the most incredible things about the show was the artwork and backgrounds, as they were very lifelike and detailed. Some things that they changed were: the order of the story - as it wasn't in order, and the amount of practise with props. Overall, I enjoyed the performance very much as it was funny, exciting, it involved the audience and wasn't too lengthy. I would rate this production a solid 9/10.
We have been looking at converting measures this week in maths. To make it a bit more exciting, we have measured our heights and converted them to mm, cm and m. Using ml and L, we have measured capacity, experimenting to find the most scrumptious concoction of dilute squash.
To kick off our Ancient Greeks topic, we have begun to design some Greek inspired vases in our first pottery lesson. Over the next few weeks, we will be moulding our vases out of clay, before finishing off our masterpieces with paint.
It has been very exciting this week as we held our mock election in KS2 on Voting Day (8th June). Each class developed their own manifesto, before pitching it to the rest of the key stage. We all got the chance to place our vote using ballot papers and boxes. Well done to Year 3 who won the majority with their Starry Party Manifesto!
We had a great day and are very proud of our manifesto. Please take a look by following the link below
In Year 5, we decided that instead of having an Easter bonnet or egg decorating competition, that we would have an Easter egg hunt. It was great fun, with Scatcherd team finishing victorious!
Here we are in our wonderfully ridiculous outfits, raising funds for comic relief on red nose day. We designed our very own red noses just for the photo!
If you would like a copy of any of the photos, please send a USB stick into school and I will be happy to copy them over. We took 200+ photos for each group so too many to email unfortunately.
This half term we are looking at stories from other cultures, specifically stories from Africa. On Friday (27.01.17) Year 5 took part in an African Voices workshop where we learnt all about different countries in Africa. We learnt lots of interesting facts and even had a go at singing the Tanzanian national anthem.
Year 5 enjoyed their visit from the Morley Fire Station. The firemen spoke to us about the causes of fires and what to do in the unlikely event of a fire. I was extremely proud of how mature and sensible the class were throughout.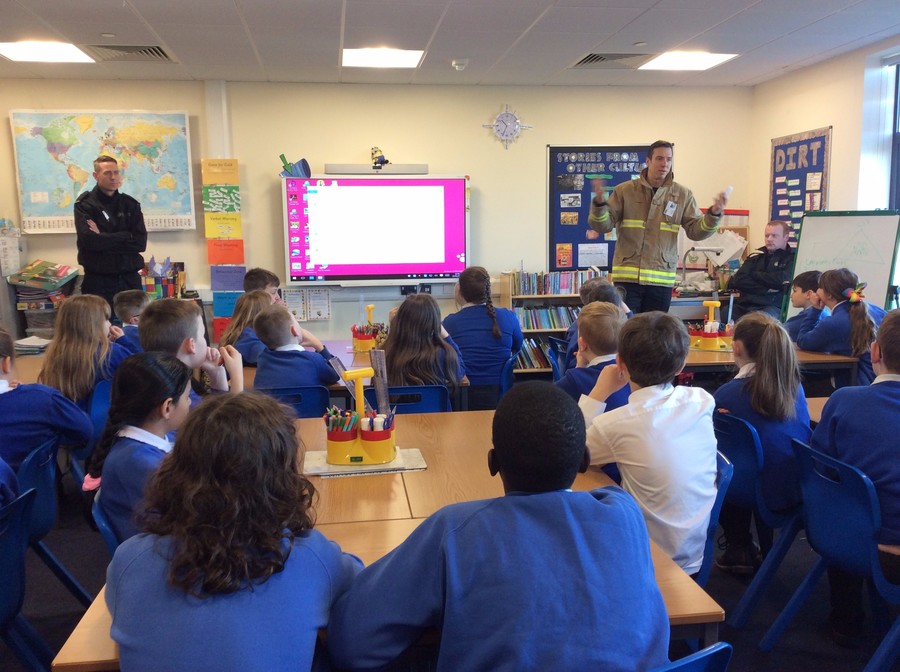 Today we put our knowledge of the Vikings to the test! We 'Skyped' a Viking from Jorvik and were able to impress Sven with our fantastic facts. We asked some great questions and learned even more about the Viking age.

Last year, as part of a whole school effort, each class took part in a weekly 1 mile run. The benefits resulting from this were fantastic! Not only was it evident that children were getting fitter and therefore healthier, but it was also clear that they were becoming more confident, with some children applying their new found determination to their work ethic in the classroom.
We are keen to continue running at least once a week and ask you to please ensure that your child has appropriate footwear in school so that they are able to take part.
I am excited to tell you that we ran our first mile as Year 5 on Thursday 8th September and completed it together in...
11 minutes 34 seconds
What an exciting first day back! Year 5 were dressed the part when we investigated the reaction between bicarbonate of soda and vinegar in our Frankenstein's hand experiment.
Poplar Scary Science
As part of our space topic in Autumn 1, Year 5 pupils worked in groups of 2 and 3 to investigate the movements of the Earth, Sun and Moon. We made mini models using paper plates and split pins that helped us to learn about the difference between rotating and orbiting.
Poplar Space
During Big Draw week, we worked together to create our own model of the Solar System as a class. We worked in groups to research an element of the Solar System, before using balloons, paper mache and paint to create our part.
Poplar Big Draw
Poplar Class
Chloe WETHERILL (wetherillc) on: Poplar Class
This week, we have completed our final testing of the year 3/4 common exception words, as next term we will be focusing on the year 5/6 words. I am very proud of the improvements from the start of the year, with some children making progress of 50 or 60 words! Great work Year 5 we are super spellers! :)
---