CORONAVIRUS
We will be using this page to try to keep parents informed of the current situation in school. We will include useful resources for your children to access at home.
Coronavirus- A Book For Children.pdf - A lovely, beautifully illustrated explanation for children.
Risk Assessment
We have carried out a full risk assessment before making our decision to open school for more pupils. A copy is attached below. This is under constant review as the situation changes and we continue to make decisions about school opening and provision.
Mrs Austerfield's Blog
gill on: Mrs Austerfield's Blog
Hello!
It is the Easter holiday but I know that it won't feel much different for most of you. We still have a small number of children in school with staff working on a rota basis. I have no idea when things will return to normal but I suspect that it will be a little while off yet. We will try to get more packs of activities ready after the holiday as I know that some of you are struggling with online work. I have managed to speak to some of you this week and I know that you are finding creative ways in which to occupy your time with your children! I really hope that above all you are keeping well.
The Children's Commissioner's office has produced a guide for children which you might find useful to help your child understand what is happening.
Children's Guide to Coronavirus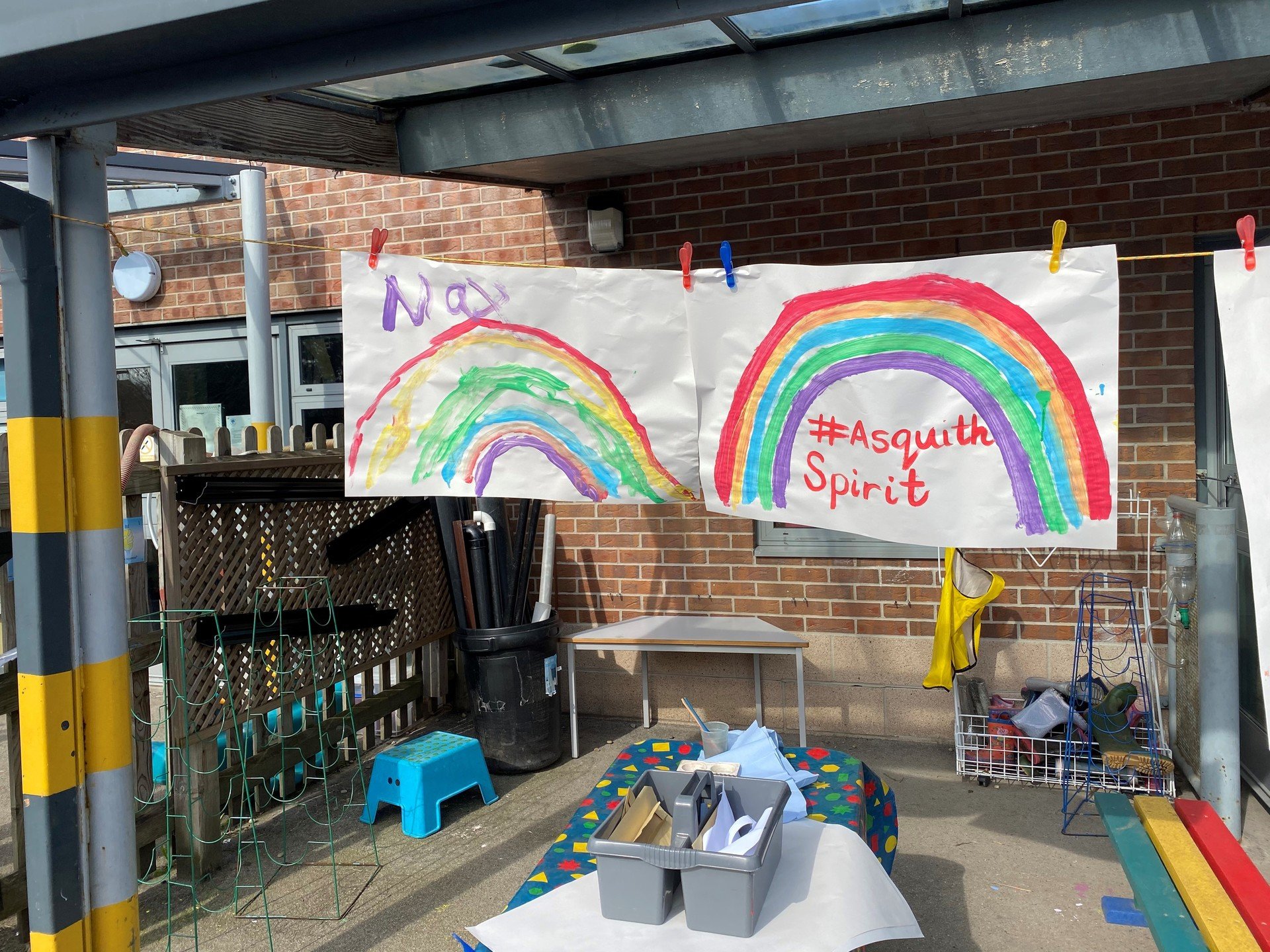 #AsquithSpirit
---
Please see below for advice for home learning and scroll down to find extra links and activities to keep you busy at home!
MESSAGE FOR PARENTS AND CARERS:
We know (as parents ourselves) that working from home and taking care of young children is challenging, so any learning to fit in can be tricky. Please don't feel that you have to complete all or any of the activities we have given you. We are not expecting you all to become teachers overnight, you are still first and foremost parents/carers to your children. You are and always have been your child's first educator.
Regular reading, keeping healthy and staying safe and happy are the most important things at the moment.
With that in mind, all home resources that teachers have given and the resources linked below are there to support you if you can/want to do some activities with your child. They are not designed to teach your child something new but to consolidate prior learning. Hopefully, they are activities that your child can complete independently or with limited support from yourself so that you can get on with your own work if you are working from home.
If you have any questions or concerns please either: email the class teacher using their year group email, see their class page for more information, Nursery and Reception parents can also use Tapestry.
For "home learning" or at its best "distance learning", you may find that creating a timetable with your child/children may help. If you do make a timetable remember to include time for the children to entertain themselves so that you can get your work or your usual household jobs done. It is important to get a balance so that you all feel happy being at home together all day.
If you have a partner, taking turns to 'work' whilst the other adult is with the children is a good strategy.
Everything is a balancing act at the moment - it's a learning curve for all of us.
The most important thing for all of us is to stay safe, healthy and happy during this difficult time.
Please see Class Page Links
(Nursery and Reception are primarily using TAPESTRY to keep in touch)
E-Safety - we are aware that children will be using the internet more and more as they continue learning at home. It is important that we ensure that all of our children are safe on line and that they are using age appropriate resources.
Below is also a selection of resources available for parents to support with this:
1. NSPCC NetAware provides a useful guide to social networks, apps and guide.
2. National Online Safety have produced a series of top tips guides to support remote learning for Parents, Children and Teachers.
3. Thinkuknow is the education programme from NCA-CEOP, a UK organisation which protects children both online and offline for different age groups and parents.
4. Childnet has produced a Parent and Carer Toolkit which is a collection of three resources designed to help you talk to your child about their online life, manage boundaries around family internet use and point you in the direction of where to get further help and support.
5. https://www.ineqe.com/2020/03/30/houseparty-how-safe-is-the-app-taking-the-uk-by-storm/
USEFUL RESOURCES:
As we are starting to spend more time outside use this website for fun in the sun tips - how do we keep our children safe in the sun?
PSHE and SEMH Resources for parents
Child Friendly Coronavirus information
For more PSHE, Citizenship and SMSC (Social, moral, spiritual and cultural learning) resources please click on the link below:
https://drive.google.com/drive/folders/1PF_bhLbOj_JzRmz1lehc_Ck6nDwMCKA7
Online support and counselling for young people - a fantastic resource for children who need someone to talk to during this difficult time
A child friendly booklet explaining why most children can't come to school - please read this with your child. it will help with confusion and worries.
SEND and Child friendly explanation of Coronavirus
Our friends at Premier League Primary Stars have come up with some great resources fro home learning. They even do a star of the week! Check out their new resources using he link below:
https://plprimarystars.com/news/home-learning-activities-school-closures?utm_campaign=1872854_HL%20Sunday%20email%2029.03.20&utm_medium=email&utm_source=edcoms&dm_i=3VTU,1453Q,1IIX54,3X084,1
Useful Teaching and Activity Resources - brilliant list of Websites for each subject
Things I can do at home (for visual timetable) - This is a great resource, I think most parents will love the life skills section!
Reading Wise
Offering free resources for reading and literacy during period of school closure.
Online reading programmes that can all be accessed at home and teachers can administer them remotely.
https://readingwise.com/coronavirus-support
Year of Reading
David Walliams is releasing a free audio story every day at the moment
https://www.worldofdavidwalliams.com/elevenses/
Useful Resources for Adult Well-Being
Adult mental health and well-being - click link to find more resources
Some useful tips created by doctors for doctors - although this has been written for doctors it has brilliant advice for everyone to follow. Great tips for those who are feeling particularly worried or anxious at this time.
For more educational websites that are offering a free subscription at the moment click on the link below:
Please see below the Link for the newly launched Child Friendly City Blog.
This site brings together local and national resources and activities for children and young people while we are all staying at home. Its aim is to help support parents and carers around the city with hints and tips on ways to keep their children entertained whilst the schools are closed. It includes online family-friendly events, the award-winning Leeds Curriculum from the council's museums and galleries team, 21 top tips for keeping the kids entertained at home, details of our fortnightly #OurChildFriendlyLeeds competition, and lots of other activities to keep you busy.
Extra activities for home learning if you wish to use them...
Spring activity booklet Year 1
Spring activity booklet Year 2
Spring activity booklet Year 3
Spring activity booklet Year 4
Spring activity booklet Year 5
Spring activity booklet Year 6
Here is a great link for learning at home using lego! We know how much you love your lego!
https://littlebinsforlittlehands.com/kids-lego-activities/
Spring origami links, to keep you busy! Click on the ones you wish to make to take you to a youtube tutorial.
Daffodil- This one is a little tricky!
Leeds United Primary Stars
Our primary stars partners are offering activities and ideas to support you learning from home. Please follow the website link and click on the guide to get you set up.
Also, please follow the links for online learning opportunities with Leeds United and keeping active:
https://www.leedsunited.com/news/community/26449/online-learning-with-premier-league-primary-stars
https://www.leedsunited.com/news/community/26444/foundation-coaches-to-help-keep-youngsters-active-whilst-learning
Art
Please click on the links below to take to you to some brilliant cartoon workshops provided by artist Pete McKee. The first one looks at faces, the second looks at ageing and the third looks at bodies.
Please click on the links below for tutorials on 'doodle hand print' and some lovely 'peg dragonflies'.
Science
Please click on the links below to access some easy science experiments at home!
Science experiment ideas and questions
Science fun at home from Science Sparks and Primary Science Teaching Trust (updated every Wednesday).
Playtime
Playtime is important too! Follow this link to take you to some playtime ideas made By East African Playgrounds - they are normally busy building playgrounds for children in Africa. At the moment they are working with "The Real Playful Mama" to create play opportunities for people to have a go at in their own homes.
Small acts of kindness - things you can do to put a smile on peoples' faces:
https://www.archbishopofyorkyouthtrust.co.uk/yla-at-home - click on the family ideas grid!
RE - You can continue your learning at home:
https://penninelearning.com/page.php?pageid=17&template=1
Fun with Food: Chartwells Super Yummy Kitchen