Optional Challenges!
OPTIONAL FUN CHALLENGES - Have a go at these challenges! We will be sharing these on Tapestry too for children in Nursery and Reception.
.
Challenge- Last week your challenge was to make a plan for a picnic! this week, your challenge is to make that picnic! The weather is meant to be much nicer this week, so hopefully you could enjoy your picnic outside after you've made it.
.
Challenge- This week we would like you to make a plan for a picnic. You can plan where you would go, what you would take, and most importantly, the food you would take with you! You could draw a picture of your picnic food, and even write a shopping list. It is national picnic week this week so we thought this would be a perfect challenge.
.
Challenge- This week is children's art week! For your challenge, can you create a drawing of something in the natural world? This could be a flower, a tree or even a shell you found!
.
Challenge This week your challenge is to create a poem about your life in lockdown and decorate it. This could include what you have done, what you have learnt and how you have felt. You can submit your poems into a poetry competition run by Morley Arts Festival! Click on the link below to see guidance on your poem, and where to enter. Good luck!
.
BIG SING! Year 4B will know all too well that our Big Sing this year had to be cancelled. However, you can all take part in a big sing online on Friday at 2pm! Click on the link to find out more! https://artformsleeds.co.uk/music/offers-for-schools-and-academies/events-concerts-and-performances/join-the-virtual-big-sing-2020-live-on-youtube/
.
Challenge- This week's challenge is to make a special card to tell someone how much you love them! This can be for anyone who is important to you in your family, and could even be made into a Father's Day card if you would like. This is your chance to be creative and come up with your own design. If you are feeling fancy, you could even make a pop up card! Happy designing!
Challenge - This week's challenge is to come up with your own 'lockdown rap' about rules on how to stay safe and keep your distance. Watch the clip below for tips on how to write your rap. Send these to your teachers and the winning rap will be printed and put up in classrooms to remind us how to stay safe. http://raisingcreativechildren.net/6-steps-for-kids-to-start-creating-rap-music-2/
Challenge - For this week's challenge, can you design and make your own drink to keep you and your family refreshed during all the sunny weather we are meant to have? You could use fruit juices, colour your drink or even make a fancy smoothie or delicious milkshake- we'll leave the creative bit up to you! Then, on paper can you design a logo for your drink to advertise it?
Challenge- Alphabet Scavenger Hunt- Can you write down the alphabet on a piece of paper then go around your house and find something that begins with each letter, record it on your piece of paper. You can get other family members involved and see what different items you came up with. If you want to extend this idea you could do the same activity but change the theme: countries, animals, people's names, the list is endless.
Challenge - Learn to sing the song "I can sing a rainbow" using Makaton. Click the links below to see the videos of Miss Dolby and to learn the Makaton actions to the song...
Part 1 of "I can sing a rainbow" Part 2 of "I can sing a rainbow" Part 3 of "I can sing a rainbow" Part 4 of "I can sing a rainbow" Part 5 of "I can sing a rainbow"
Challenge - Big Cook! Little Cook! Can you help your grown up prepare a meal or bake something delicious? Miss Hornegould and her boys enjoy baking things together and this week they have made some rice crispy buns to use some of their Easter chocolate up. What can you bake with your adult?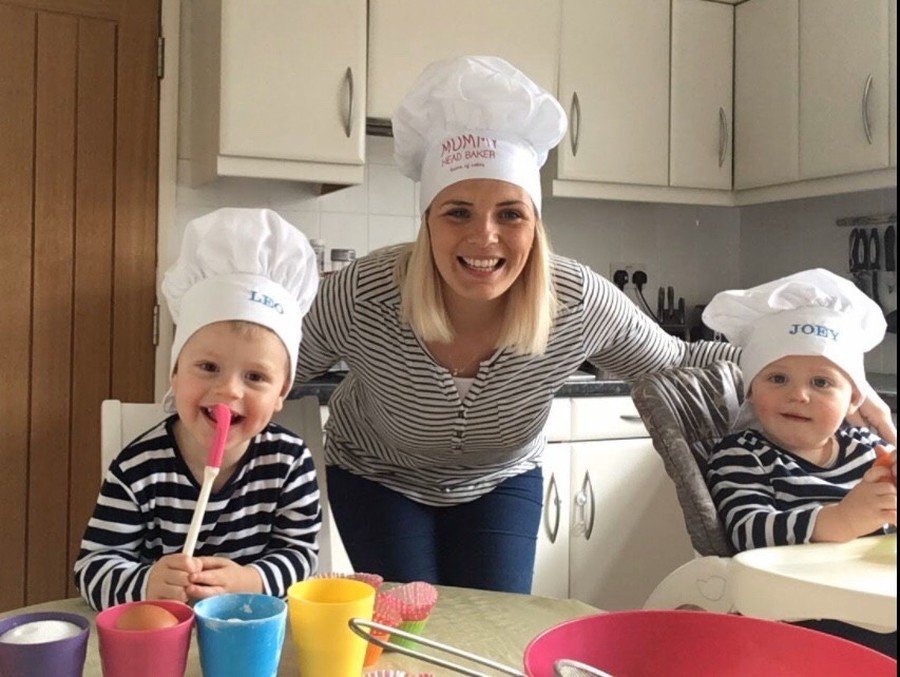 Challenge - Disney Drawing Challenge: Use this link https://www.youtube.com/watch?v=Lv5qFYJNTbs&list=PLflf8xbnbx65Z2oa2F9uqKZxJJn-4Nynr to take you to the youtube page that has over 43 Disney characters to draw following a step-by-step guide. Or you could choose your own picture off the internet and draw it yourself without any help.
Here are some of Miss Dowd's Disney drawings for some inspiration! She chose a picture off the internet and drew it from there.