Welcome to Year 2 2019/2020!
We are a friendly, experienced team - please contact us if you have any questions about our classes.
Ash Class - Teacher, Mrs Holdsworth
Maple Class - Teacher, Mrs Seedhouse and Mrs Skelton (Wednesday and Thursday)
Year 2 is both an exciting, and important year. We have lots of great things planned and lots of hard work to do, but there will be a lot of fun on the way. To get you excited, are a few highlights...
Autumn term - Superhero theme with a dressing up day
Harvest celebration
Visit to Morley Fire Station
Spring Term - Lotherton Hall, visit to see the Penguins
Hatching chicks in our very own classroom!
Please visit our class page as often as you can, to keep up to date with all the latest news.
TRACTION MAN IS HERE!
We have had lots of fun this week in Year 2, recreating scenes from the comic strip story Traction Man by Mini Grey. We have used props to retell the story and even acted out our own missions, to make a class comic.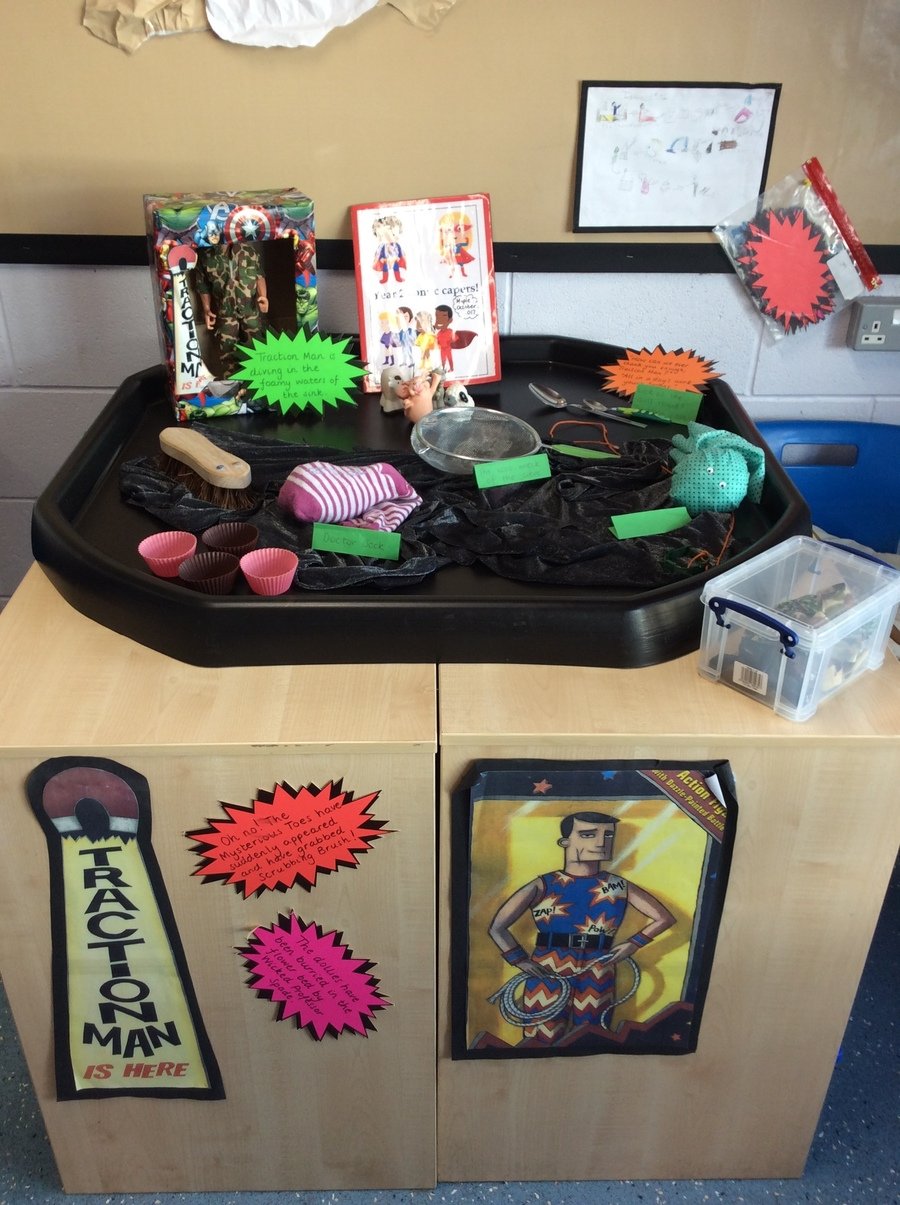 YEAR 2 NEWS 2019/20
ntseedhouse on: YEAR 2 NEWS 2019/20
Well done to all the Year Twos for making an excellent start to the year. We are really proud of you.
---
ntseedhouse on: YEAR 2 NEWS 2019/20
We hope that you are all having a wonderful summer - Mrs Seedhouse, Mrs Holdswoth and Mrs Skelton are looking forward to seeing you on Tuesday 3rd September to hear all about your exciting adventures!
Remember to bring your book bag, water bottle and PE kits so we are ready to go - and don't forget to put your name on everything.
---
Key information
Essential equipment! All your child will need for the day is a water bottle and a small book bag. If you do not have one, they are available from the school office - large back packs are not required and we do not have the space to store them. PLEASE KEEP THESE SEPERATE as soggy books are no use to us. Thank you.
PE days are Tuesday and Thursday Children must wear a PE kit for both lessons which consists of royal blue shorts, white t-shirt, pumps or trainers. In the better weather we will be having PE lessons outside so children also need an outdoor kit.
Homework is sent home on a Friday and needs to be returned to class the following Wednesday. Every week they will have spellings and reading to complete. They will also have maths homework which will be during the spring term this will mainly be times table/ division facts to learn by heart.
Guided reading will take place once a week. Please can you make sure that they have their books and reading records in their book bags for when they read. In the new homework policy it is recommended that your child reads daily for 10 minutes. Whenever someone listens to them read can we encourage you to write a comment in their reading records at least once during the week. As your child becomes a more confident reader and can read to themselves they can also write a comment in their records. This is also a good form of communication if you need to pass any message onto us.
Reading is essential to success! Please read with your child as often as you can - school books, library books, any books at all. Reading to your child is as important as them reading to you - so share a book whenever possible too.
Our Bedtime Book Bear, Bertie (Herbert Henry Bear) will be coming home to share stories with your child at some point in the year...more information to follow.
Spelling These will continue to built on from Year 1. We use green spelling books for your child to practise their words and where they will do their test. This means that you can see which words they still need to work on to complete the level. The day that they have their test may change from one week to the other, so please keep the book in their bags. They will only get a new set of words sent home once they have got all the words correct.
Below is the whole set of spelling lists.
AUTUMN 1 ... Could you be a Superhero?