Hawthorn Class (3A) and Juniper Class (3B)
contact us on year3teachers@asquithprimary.org
We hope that you are all enjoying the last few weeks of the summer holidays. We are very excited about seeing you back in September. Below are a few key details about the start of school as things are a bit different this year. Please don't worry, we are all very excited and are ready to start!
Hawthorn Class is 3A Mrs Seedhouse (Mrs Scott on Thursdays)
Juniper Class is 3B Mrs Winney (Monday - Wednesday AM) and Mrs Nunns (Wednesday PM - Friday)
Mrs Scott is our HLTA who will also be covering classes during the week and Mrs Somers and Mrs Burden are our Teaching Assistants.
Our staggered start and finish times are;
Hawthorn class 8.45 - 3.00
Juniper is 9.00 - 3.15
We are based in the KS2 building at the far end, there will be a member of staff waiting to greet your child at the door and plenty of other staff to direct you on the playground. Parents are not allowed in the school building, so please say goodbye as we greet your child and exit the playground following the one way system.
At the end of the day we will bring the children out of the KS2 building and line up on the playground. Please wait outside the green fenced area (MUGA) and we will send your child to you as we see you.
Unfortunately, we are unable to speak to you on the playground like we would usually do, so please send us an email or call us after school if you need to speak to us.
No equipment will be allowed in school, including PE bags and book bags or rucksacks. Only send your child with a coat, water bottle and lunchbox, if required. Please send lunch in a small lunchbox as this will be kept by your child's desk.
On PE days, you must send your child to school in their full PE kit as we are not changing clothing in school. Year 3 have PE on Thursdays.
Due to the staggering of lunchtimes, we will be eating fairly early and having a longer afternoon session. Snack is no longer provided by school as part of the Free Fruit and Veg scheme, so we recommend that you send a snack in for your child to eat in the afternoon. This should only be either fruit or veg. Please put it in a named container or bag.
Are you ready for our next exciting topic...Why do we live in Leeds?
Resources for Home
In the first instance, we will only be sending home spellings and times tables as homework, as well as one school reading book. Additional home learning can be found at;
BBC Bitesize (which has a whole programme of catch up lessons which run alongside and complement our current teaching in class).
If your child is unable to come to school but is well enough to work, please use some of theses resources. Your child's class teacher will also be in touch via email to guide you.
We're going on a Woolly Mammoth hunt...but we're not scared! We have been hunter gathering just like in the Stone Age - ask your child what we found.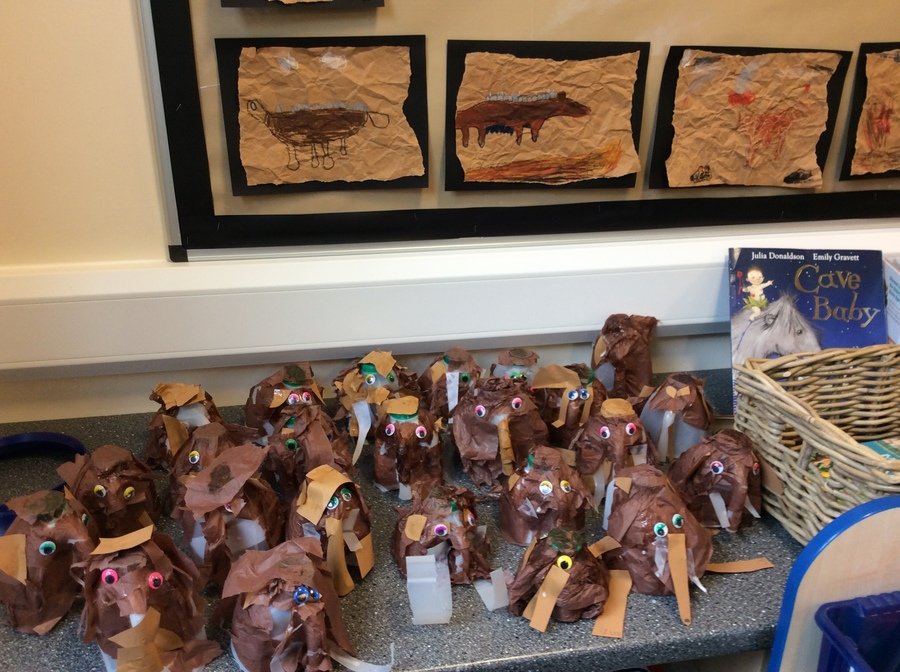 We are really proud of our 'Tin Forest' pictures...we hope that you like them!
We are looking at instructions this week in class. Here are some examples that we used to find out what features they have - some children fancied trying them at home, so why not take a look?
Year 3 News
ntseedhouse on: Year 3 News
We love reading in our class, so we had a go at making some special origami bookmarks on Friday.
Mrs Seedhouse found a design, but it was a bit tricky!
With a little perseverance and a lot of growth mindset, we managed to create some wonderful designs. I was very proud of how the children stuck at it - some even wanted to have a go at home. I will post the design on this page so you can try it if you would like to. Pictures of our creations to follow...
---
ntseedhouse on: Year 3 News
We'd just like to say a massive thank you to all of the children in Year 3 this week, and to all of you parents too! We have had a fantastic start, with the children very quickly settled, learning our new rules and routines and have an excellent 'can do' attitude towards their work. Fabulous!
I felt so happy for us all to be back together again after so long and am very proud of them already.
Remember to keep an eye on our class page to see regular updates and if you need to contact us or pass on a message, the best way is to use the Year 3 teacher email as we are unable to talk face to face.
year3teachers@asquithprimary.org
---
We also met Scaredy Squirrel this week, who told us about some of the worries he has. As a class, we found ways to help him be more confident and teach him some of our school rules. We had a scavenger hunt for some leaves to make our own Squirrel pictures. Some children asked if they could have a copy for home...click on the link below if you would like to have a go.